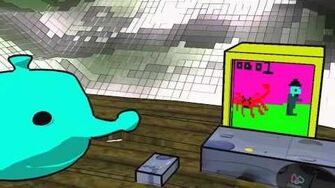 Transcript for
TeaPotSenMan episode: 02
.
Transcript
Edit
Note: This transcript is unofficial and therefore may contain mistakes. Words and sentences that are uncertain are marked with [these symbols], and indecipherable words and sentences are marked with *indecipherable*, and sounds and noises are marked with (these symbols).
(Splashing sound)
(Mechanical sounds)
PotsAndPots: TeaPotSenMan, I bring good news from the *indecipherable* of the Republic of Tyksrr. The Spoon King has seceded his lands to you!
TeaPotSenMan: Go away, PotsAndPots. I am busy *indecipherable* my new rare retro video game console. [I just thought], you've probably never even heard of it before.
(Beeping sound)
PotsAndPots: That's it! (Bleep censor) it! (Bleep censor) you! I'm not playing anymore! I hope you die soon!
(Explosion noise)
(Beeping sound)
Text reads: TeaPotSenMan died 68 years later But potsenpot's respect for teapotsenman died today feburary 31st 2087...
("The Idea Man" plays)
Ad blocker interference detected!
Wikia is a free-to-use site that makes money from advertising. We have a modified experience for viewers using ad blockers

Wikia is not accessible if you've made further modifications. Remove the custom ad blocker rule(s) and the page will load as expected.