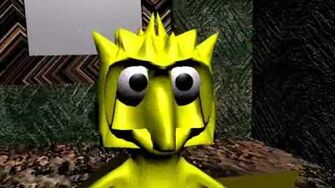 ​Note: This transcript is unofficial and therefore may contain mistakes. Words and sentences that are uncertain are marked with [these symbols], and indecipherable words and sentences are marked with *indecipherable*, and sounds and noises are marked with (these symbols).
Transcripts
Edit
Marge: *indicipherable* It is Christmas eve!
(Strange noises)
(Screeching noises)
(Explosion noise)
Marge: Lisa!
Lisa: Yes, Marge.
Marge: Go check on your brother- Bart. I have not been in his room for over [18] days!
(Music plays)
(Strange noises)
Lisa: Hello there, Bart. It is me- Lisa Simpson, how are you?
Bart: (Heavy breathing)
Lisa: Bart, you are not as fun as you used to be. Would you like to play a video game? How about the punching and kicking game for the *indecipherable*, or the murder and rape game for the Game Boy Advance? I will take you downstairs, Bart.
Lisa: Here, I will be player 1 and you can be player 2. Get ready for the most intense video gaming session, ever.
(Music plays)
Lisa: Well that was a lot of fun. Hello, Bart. Did you have fun on your trip to the seaside?
Bart: Yes I did, Lisa. And now I must go back, to the seaside.
Lisa: I think I will join you, for this trip, we will come back soon, won't we Bart?
Bart: Only time will tell, Lisa. We may be gone a while!
(Music plays)
Ad blocker interference detected!
Wikia is a free-to-use site that makes money from advertising. We have a modified experience for viewers using ad blockers

Wikia is not accessible if you've made further modifications. Remove the custom ad blocker rule(s) and the page will load as expected.