Here is a list of events that occurred in Snospis Eht.
Andywilson92 has said that Snospis Eht (with the exception of the Little Marge series that are prequels) takes place exactly 45 years after the upload date of the video [1].
Before 2056
Edit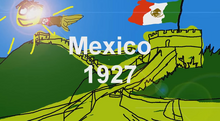 After 1200 BC - Tyksrr is colonised by the Chinese.
unknown - Tyksrr founded.
unknown - Christianity introduced to Tyksrr, but the local Christian faith gradually becomes corrupted into a bizarre syncretic cult.
late 19th century - Tyksrr perhaps holds diplomatic relations with the outside world (particularly Europe and the Ottoman Empire), leading to the usage of the Esperanto language as a local lingua franca.
1889 - Mr. Hitler is born/created.
1927 - Magic Mouse was imprisoned at the Catholic School Prison Camp, somewhere in Mexico.
1939-1945 - World War II breaks out, and ends with the defeat of Nazi Germany and the real Adolf Hitler. It is uknown on what exactly was Tyksrr doing during the war, but it most likely stayed neutral.
1947-1991 - The Cold War commences. Tyksrr possibly joins the Americans' side, leading to American influence on modern Tyksrrian culture.
December 1994 - Magic Mouse tells Mouse Tails that Wonder Mouse has been kidnapped.
2001- the Spoon King begins his reign over Tyksrr.
unknown - the Great cheese war takes place. Magic Mouse fought in that war. Around that time until now, the Mouse Manor was wealthier.

21st September 2016 - 

 

Marge is born.
2027 - Marge's childhood. She meets Mr. Hitler. They deliver cabbages to an Inkajoo merchant to be sold.
2037 - The Great Fire of 2037 occurs. Captain Crazy loses his legs in the fire, but continues his acting and film directing career.
2037 - Mr. Hitler begins creating his paintings.
unknown - Marge marries Homer.
2038 - The Good Captain's Fish is founded by The Good Captain [2].
2046 - The vintage 2046 São Tomantle port wine was produced on that year, as it is a favorable year for producing port wine.
2046 - Bart is born.
2048 - Lisa is born.
2048 - The Snospis family move into the bus station.
unknown - Maggie is born.
unknown - The reformation of the Snospis Family farm takes place.

2050 - The 2050 world collapse takes place, killing 5.67 billion people between March and October.
2054 - The São Tomantle wine that was used at Snospis Eht: Dreams Again. was produced at that year.
See also: 2056
According to Bart and Lisa, this year's harvest "has been the most productive" since the reformation of the Snospis Family farm. This farming business is still "unsatisfactory", and it is at the brink of bankruptcy.
"The Year is 2057, and in a post apocalyptic Scandinavia the world has descended into a peaceful state of anarchy. Man has re landed on the moon, and everybody is getting back to grip with things, meanwhile in the Snospis Household, Marge is having a bit of trouble looking after her daughter infant daughter Maggie."
— "Marges Day 01" (in andywilson92's Tumblr site)
January 11, 2087-TeaPotSenMan and Potsandpots begin playing video games
Febuary 31, 2087- The Spoon King "secedes his lands" to TeaPotSenMan: most likely, rebellions had broken out against his rule, and he was overthrown. TeaPotSenMan becomes the Federal Republic of Tyksrr's first president.
Febuary 31, 2087- Potsandpots respect for Teapotsenman dies.
Unknown Date- TeaPotSenMan dies.
Snospis Eht Copyright expires.
See also
Edit
References
Edit
Ad blocker interference detected!
Wikia is a free-to-use site that makes money from advertising. We have a modified experience for viewers using ad blockers

Wikia is not accessible if you've made further modifications. Remove the custom ad blocker rule(s) and the page will load as expected.