A television is a device that displays animated images from a glass screen using electricity.
There is a television screen in the basement within the Snospis House, which Marge, Lisa, and Maggie watch shows like "Mouse Tails" and "My Little Pony: Friendship is Magic". It was destroyed (sometimes by itself, sometimes by Marge's careless actions) and replaced several times.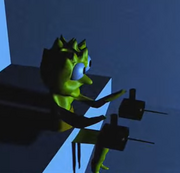 Lisa occasionally uses it to play
video-games
.
From the note on the refrigerator at Snospis Eht: Marges Day: Part 01, it may suggest that Bart not only watches "Mouse Tails" as well, but is also a fan of the show.
List of television shows
Edit
Franklin and Beyond
The Good Captain's Show
Appearances
Edit
Ad blocker interference detected!
Wikia is a free-to-use site that makes money from advertising. We have a modified experience for viewers using ad blockers

Wikia is not accessible if you've made further modifications. Remove the custom ad blocker rule(s) and the page will load as expected.