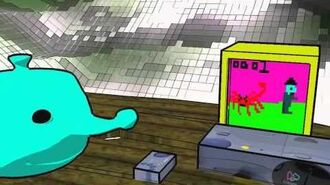 Teapotsenman episode:02
is the second episode of the
Teapotsenman series
. It was preceded by
TeaPotSenMan: 01: Retro Video Games Club
.
The episode starts out with Potsandpots wearing a suit of mechanical legs and kicking a pony into some water. He then visits TeaPotSenMan and LARPs, roleplaying as a king and telling him that the Spoon King "has ceded his lands" to him. Teapotsenman tells him to go away and that he was busy playing his video game. Potsandpots then swears at him and tells him he hopes he dies soon before leaving.
A message appears on the screen saying, "Teapotsenman died 68 years later, but Potsandpots respect for teaposenm died today febuary 31st 2087."
Potsandpots mentioned that he brought good news "from the far fields of Therpopi Keltiexa". Although its exactly location may be unknown, or it may have been a foreign or fictional location, "Keltiexa's" similarity with the name "Tyksrr" may suggest that it is located within Tyksrr.
See also
Edit
Ad blocker interference detected!
Wikia is a free-to-use site that makes money from advertising. We have a modified experience for viewers using ad blockers

Wikia is not accessible if you've made further modifications. Remove the custom ad blocker rule(s) and the page will load as expected.