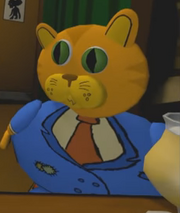 is a businessman in Mouse Tails. 
Characteristics
Edit
He is a ginger cat with green eyes. He often wears a suit; in Mouse Tails: Mousefest he is seen wearing a blue suit with a red tie, however in Mouse Tails: 101 Magic Mice he is seen wearing an orange suit with a green tie. He speaks with a combination of an American accent and a Yorkshire accent.
In Mouse Tails: Mousefest and Mouse Tails: Mousefest (PG version). , offers Mouse Tails a record deal at Mr Mousington's Cigar Club. At first Mouse Tails is wary of the idea, but offers him some cheese. Then Mouse Tails and go into the toilets.
In Mouse Tails: 101 Magic Mice, brings Magic Mouse's 101 mouse children while running over pedestrians while a distorted version of the North Korean patriotic song "no motherland without you " plays
Appearances
Edit
Ad blocker interference detected!
Wikia is a free-to-use site that makes money from advertising. We have a modified experience for viewers using ad blockers

Wikia is not accessible if you've made further modifications. Remove the custom ad blocker rule(s) and the page will load as expected.