Snospis Eht: Marges Story Time
is the nineteenth episode of andywilson92's "Snospis Eht" series. It is preceded by 
Snospis Eht: Ned
 and is followed by 
Snospis Eht: Dreams Again
.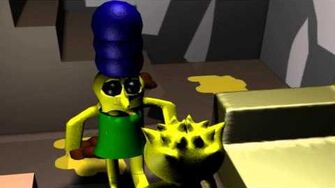 In a rainy day, Marge enters the basement, where Lisa waits for her. Marge removes the television screen from a table, and throws it away, so that she can have a place to sit and tell Lisa a story.
Marge's story begins in her house, where she arrives to see Lisa in the basement. As Lisa sits in front of the television set, she asks Marge on what is she doing there. Marge asks her back on what is she watching on the television set, and joins in. She leaves as the television program became uninteresting, and tells her not to watch the television, warning her that she will go blind. Marge (who is riding on a giraffe) takes the family to the park, to go swimming in the pond.
Lisa takes off her dress and swims in the river. She nearly falls off the edge of the waterfall.
Marge (who is naked) asks Lisa on what has she learned for today. She also notices Lisa staring at her, so she sends Lisa off to the Mayor, who will teach her "how to be a lady."
She arrives at the Mayor's Office, and meets the Mayor, who is wearing a crown and a pink shirt. The Mayor tells her to take her clothes off  in front of him, and rides on her neck, telling her to fly. Lisa jumps out of the Mayor's Office, and both she and the Mayor crash to the ground. Marge explains that "is why I had to boil up the cat for lunch." Lisa comments, "What the fuck was that?"
Andywilson92 stated that this episode was based on a thread that he made on 4chan around April 2011.
This episode uses the older versions of the characters for Marge's story.
Teapotsenman appears between the slides used for Marge's story.
The television screen in Marge's story depicts two lions mating.
This episode features Marge to be nude. The first episode to do so is Snospis eht short.
At the beginning of the episode, Lisa is seen sitting near a poster. The poster is a drawing from Marge's perspective, showing Lisa laying on a table, with Marge tugging at her dress. The drawing was drawn specifically for this episode, and was lost when Andywilson92's hard-drive crashed [1].
References
Edit