Snospis Eht: DONT BE A PUSSY LEESHA!!! is the tenth episode of andywilson92's "Snospis Eht" series. It is preceded by Snospis Eht: Sick Bart part 2: A trip to the Seaside, and is followed by Snospis Eht: Christmas Special: Part 01.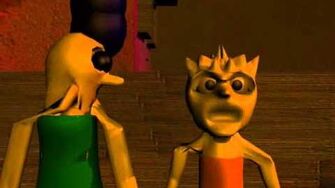 Marge and Lisa step out of the Snospis House, where they find a horse. Marge tells Lisa that they should creep behind it to trap it for themselves, but Lisa questions her plan, stating that "horses are viciously violent". Marge ignores her and approaches the horse, who kicks her in the face.
Ad blocker interference detected!
Wikia is a free-to-use site that makes money from advertising. We have a modified experience for viewers using ad blockers

Wikia is not accessible if you've made further modifications. Remove the custom ad blocker rule(s) and the page will load as expected.