Snospis Eht: Christmas Special: Part 1 is the twelfth video of Andywilson92's "Snospis Eht" series. It is preceded by Snospis Eht: DONT BE A PUSSY LEESHA!!! and is followed by Snospis Eht: Christmas Special: Part 02. It was uploaded on 11th December 2011.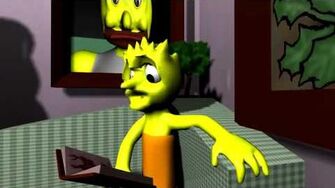 Lisa, who is excited for Christmas, asks Marge about their presents. Marge instead asks Lisa to wait for Mantra Claus to deliver their presents. Lisa asks on Mantra Claus and his purpose.
Marge explains that "Mantra Claus visits the nastiest families every year." Lisa then reads a Bible, where it explains about the death of the Jesus-man and the growing hunger of Mantra Claus. Marge tells Lisa to go to sleep, "or Mantra Claus will not come to our house." Marge then drinks from a bottle and knocks over a television screen, before she bends down her legs and lowers herself, flying upstairs and knocking over a door.
Ad blocker interference detected!
Wikia is a free-to-use site that makes money from advertising. We have a modified experience for viewers using ad blockers

Wikia is not accessible if you've made further modifications. Remove the custom ad blocker rule(s) and the page will load as expected.