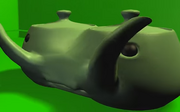 Potsandpots
(also spelt as 
Potsenpots
) is a teapot consisting of two green Utah teapots stuck together. He is a friend of
Teapotsenman
. And Pressumably
Maggie
He first appears in TeaPotSenMan: 01: Retro Video Games Club.
In TeaPotSenMan episode: 02, Potsandpots wishes to LARP with Teapotsenman, but Teapotsenman is too busy playing video games, resulting in an argment.
he makes his first appearance in Snospis Eht in the episode Dreams Again. He doesn't do much except sway back and fourth.
However, they reconcile in Teapotsenman: Jesus Does'nt Like You, where they move into a new house and play video games together. 
Appearances
Edit
Ad blocker interference detected!
Wikia is a free-to-use site that makes money from advertising. We have a modified experience for viewers using ad blockers

Wikia is not accessible if you've made further modifications. Remove the custom ad blocker rule(s) and the page will load as expected.