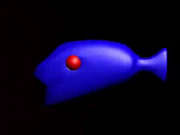 Mr Fishly
(also known as 
Herr Fishly
) is a blue fish in 
Mouse Tails
 and Snospis Eht.
Characteristics
Edit
Mr Fishly is a blue fish with red eyes. He owns the Biscuit tin factory that Mouse Tails and Magic Mouse worked at until they were fired. In some episodes he is portrayed as Mouse Tails' enemy, however Andywilson92 has called Mr Fishly an anti-hero [1].
He tends to speak in a distorted voice.
Mr Fishly first appeared in The retarded adventures of Lisa Simpson, where he informs Lisa that she is fired due to the shit farm closing down. He later appeared in Mouse Tails 02: Mr Fishly as an antagonist, as the warden of Mousewitz.
Appearances
Edit
References
Edit