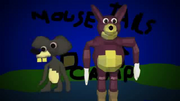 Mouse Tails camp
is a camp for children.
At the end of Mouse Tails: Herr Fishly: 03, Mouse Tails announced that children could fill out forms and go to Mouse Tails camp.
In Snospis Eht: Marges Day: Part 01, Marge talks about how Bart has gone away to Mouse Tails camp for the summer. There is also a note on the fridge, stating the Bart has to go to the Tyksrr rehabilitation centre, but it has scribbled on to make it look like an invitation to Mouse Tails camp.
Appearances
Edit
Ad blocker interference detected!
Wikia is a free-to-use site that makes money from advertising. We have a modified experience for viewers using ad blockers

Wikia is not accessible if you've made further modifications. Remove the custom ad blocker rule(s) and the page will load as expected.