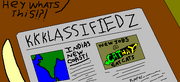 KKKLASSIFIEDZ
is a newspaper in
Tyksrr
.
Characterstics
Edit
It is a newspaper.
In Raols Issue 2, Lisa saw an advert for a job at Catway. In the same newspaper there was also an article about India's new coast.
Appearances
Edit
"KKKLASSIFIEDS" is based on a play on "Classifieds" and "KKK" (Ku Klux Klan, an extremist racial nationalist group from America -- "KKK" is sometimes used as an edgy joke). It, and some earlier images of people in the television and poster in Maggie's room, is part of a series of deliberately offensive jokes created for shock value.
"Catway" is based on the American fast food company, Subway. Like "Starf**ks Coffee", it may be an attempt by the Tyksrrian company to emulate American culture with an imitation brand.
The map of the Indian subcontinent on the newspaper may suggest that either Gujarat or southern Pakistan too was drowned, presumably after the 2050 world collapse.
Ad blocker interference detected!
Wikia is a free-to-use site that makes money from advertising. We have a modified experience for viewers using ad blockers

Wikia is not accessible if you've made further modifications. Remove the custom ad blocker rule(s) and the page will load as expected.