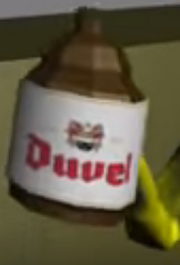 Duvel 
is a Flemish beer company founded by the Moortgat beer company.
Moortgat brewery was founded in 1871 by Jan-Leonard Moortgat, who was descended from a family of brewers that lived in Steenhuffel, Belgium. In the 1950s, the third generation of Moortgats took control of the brewery.
In the early 1970s, when the company was struggling financially, Moortgat bottled and distributed the Danish beer, Tuborg. The two companies ended this arrangement in the early 1980s, but it did save the brewery who, by then, had managed to also set up massive distribution channels for their flagship beer, Duvel.
Usage in Snospis Eht

Edit
Duvel first appeared in Snospis Eht: Sick Bart part 2: A trip to the Seaside.
In Snospis Eht: Little Marge: Part 02, Marge's mother is seen drinking Duvel in the background.
It is often drank by the Snospis family. 
Appearances

Edit