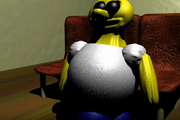 The 
bus station
 is a bus station in 
Tyksrr
.
In marge simpsons blog 01, Lisa tells Marge that they have been living in the bus station for 8 years.
In Snospis Eht: Little Marge, Marge wakes up in the bus station.
In Snospis Eht: : The Epic Adventure, an extra scene is added where Lisa informs Marge that she was knocked out by a horse and was taken to the to bus station to come round. Homer appears in the corner of the room and stares at the viewer.
Characteristics
Edit
The bus station has white wallpaper and a wooden floor. There are some red seats. There are some buckets filled with waste.
Appearances
Edit
Ad blocker interference detected!
Wikia is a free-to-use site that makes money from advertising. We have a modified experience for viewers using ad blockers

Wikia is not accessible if you've made further modifications. Remove the custom ad blocker rule(s) and the page will load as expected.