Bartholemew Jesus Snospis
is the son of
Homer
and
Marge
. He is
Lisa
and
Maggie
's brother.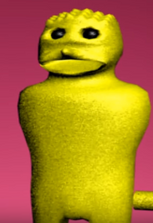 Bart was born in 2046. 
Bart is first mentioned in the episode Snospis Eht: "the modern american family, where it is claimed that Homer rides Bart to the Kwik-E Mart, because Homer does not have a car. He appears to visit the seaside a lot.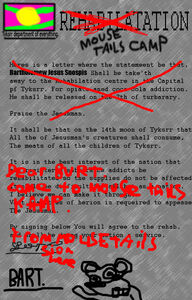 In the episode 
Marge's Day: Part 1
, on the fridge there is a letter from the
Tyksrr department of everything
, saying that Bart must go to the
rehabilitation centre
for "
opiate
and
coca cola
addiction", and that he will be released from the rehabilitation centre on the
7th turbarary
. However, Bart has scribbled all over the letter, and written something else, making it appear that it is a letter to
Mouse Tails camp
. Bart appears to be a fan of 
Mouse Tails
.
Characteristics
Edit
Bart's voice is Adult Male #3, American English at the lowest pitch on Speakonia.
Andywilson92 has said that although he cannot remember the exact date, he created the Bart model seen in Snospis Eht: Marges Story Time around late 2010 to early 2011. The Bart seen in Snospis Eht: Sick Bart part 2: A trip to the Seaside was created shortly before the episode was released. [1]
Appearances
Edit
References
Edit