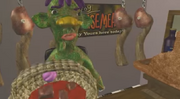 Apu
is the green-skinned shopkeeper for the
Kwik-E Mart
.
Apu first appears in Snospis Eht: Ned, where he sells Marge horsemeat.
Appearances
Edit
He is voiced by Corbinater45.
In a post in andywilson92's Tumblr account, andywilson92 mentioned that he is played by an actor called Captain Crazy, who was a famous actor during the 2030's who played as many characters in the Snospis Eht universe. Even though he lost his legs during The Great Fire of 2037 , he resumed his acting and film-directing career. Other than being an actor and managing purchases at the Kwik-E Mart, he runs a small shop by the beach where he sells fish and horsemeat.
Ad blocker interference detected!
Wikia is a free-to-use site that makes money from advertising. We have a modified experience for viewers using ad blockers

Wikia is not accessible if you've made further modifications. Remove the custom ad blocker rule(s) and the page will load as expected.