Морфине 4w/5c
is a shop that sells 
morphine
. It is owned by 
Maggie
.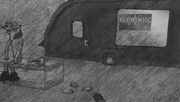 Characteristics
Edit
It is a large trailer with a sign on it saying "Морфине 4w/5c". Maggie is often seen sitting outside on a large crate.
"4w/5c" refers to the fact that the morphine costs 4 "W" quarters, which is equivalent to 5 "C" quarters.
Maggie sometimes lives in it, along with some Eskimos.
Appearances
Edit
Ad blocker interference detected!
Wikia is a free-to-use site that makes money from advertising. We have a modified experience for viewers using ad blockers

Wikia is not accessible if you've made further modifications. Remove the custom ad blocker rule(s) and the page will load as expected.